Pathways to industrial decarbonisation: Positioning Australian industry to prosper in a net zero global economy
February 2023
Australian industry has a pathway to limit warming to 1.5 degrees Celsius and create up to 1.3 million jobs
A new report produced with the involvement of the Energy Transitions Commission has, for the first time in Australia, outlined possible decarbonisation pathways consistent with global efforts to limit warming to 1.5ºC.
The report, 'Pathways to industrial decarbonisation: Positioning Australian industry to prosper in a net zero global economy', outlines the significant challenges and enormous opportunities in creating a globally competitive, equitable, net zero emissions industrial economy in Australia.
It shows that with a significant stretch in ambition – and strong, effective, coordinated action from government, industry, and finance – industry emissions in Australia could be reduced by up to 92 per cent by 2050, based on 2020 levels.
The result of a three-year collaboration between some of Australia's largest companies, the report is part of the Australian Industry Energy Transitions Initiative (Australian Industry ETI) convened by not-for-profits Climateworks Centre and Climate-KIC Australia, with the Energy Transitions Commission. The report was prepared for the Australian Industry ETI by Climateworks and CSIRO, in consultation with industry participants and research partners.
Australia could benefit from the creation of up to 1.3 million jobs between 2025 and 2050 in the ambitious 1.5°C scenario outlined in the report.
Transitioning Australia's heavy industries will require a transformational shift in the nation's energy system. This includes doubling total current electricity generation and rapidly scaling up renewable energy, a critical enabler of industrial decarbonisation.
The report shows that an investment of $225 billion, over and above business-as-usual, could transition the energy system and invest in industry technologies to achieve net zero emissions by 2050.
Together, the Australian Industry ETI identified five objectives for Australia to enable heavy industry to make the transition:
Set a strong, clear, enduring framework with a net zero emissions goal to align industry, finance and government.
Transition to the large-scale, cost-competitive, renewable energy system of the future.
Accelerate development and demonstration of the emerging technologies needed.
Drive deployment of low-carbon solutions, reduce barriers and support investment towards the transition.
Develop integrated net zero emissions industrial regions, supply chains and energy network solutions.
The Australian Industry ETI drew together 18 industry participants representing approximately 22 per cent of Australia's industrial emissions and approximately 32 per cent of the market value of the ASX100. They include Australian Gas Infrastructure Group, APA Group, Aurecon, AustralianSuper, BHP, BlueScope Steel, bp Australia, Cbus, the Clean Energy Finance Corporation, Fortescue Metals Group, HSBC, Orica, National Australia Bank, Rio Tinto, Schneider Electric, Wesfarmers Chemicals, Energy & Fertilisers, Westpac and Woodside Energy.
The pioneering initiative focused on developing 1.5ºC pathways to achieve net zero emissions in five industry supply chains: iron and steel; aluminium; LNG; other metals, including copper, nickel, lithium; and chemicals, such as fertilisers and explosives.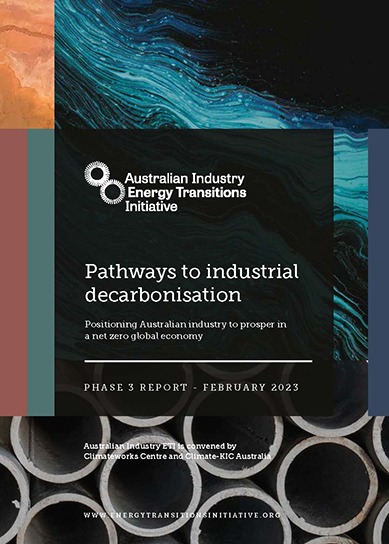 Close
Download
Add your details and select a document to download.
Download the Technical Report