Adair Turner (ETC, Chair) and Philip Lake (ETC, Global Programmes Lead) recently touched down in 5 key countries (South Korea, Japan, Indonesia, Australia and Malaysia) on their 2-week tour to visit ETC members and support regional initiatives, engage with local energy ministries and business groups, and meet leading companies in the energy transition. They participated in over 45 engagements from bi-laterals to roundtable discussions, industry action groups, report launches, site visits, dinners and interviews. It's fair to say that not much more could have been squeezed into the trip!
Priorities for the agenda were meeting with new ETC members and learning about their current operations and business strategy to meet decarbonisation targets, supporting ETC regional initiatives in Japan and Australia, engaging with local energy ministries and business groups, and meeting leading companies outside of the Commission. It was a phenomenal opportunity to learn about and witness the harmonious efforts across people, businesses and countries visited, focused on the singular aim of the energy transition.
South Korea
To begin the trip, ETC members Korea Zinc, the world's largest Zinc and non-ferrous metals smelter, hosted us at the group's Seoul HQ where Jaekil Ryu (Head of Strategies and Planning and ETC Representative) presented an overview of the company's operations and decarbonisation vision. Korea Zinc Chairman, Yun Choi and KD Park, Vice President and ETC Commissioner, covered the state of transition in Korea and evolving opportunities for materials processing, circular economy and wider pace of energy transition in Korea.
Adair and Phil later met with POSCO, a South Korean steel-making company, and discussed their 2050 carbon-neutral roadmap and challenges/opportunities in hydrogen-reduced steel technology based on FINEX and HyREX which can use relatively low-grade ore. Further engagements saw meetings with the Governor of the Financial Supervisory Service (FSS) and a dinner hosted by the British Ambassador Colin Crookes alongside the Chair of the Presidential Commission on Climate Change and Korean industry leaders.

Japan
It was then quickly over to Tokyo, Japan, where we supported the second convening of the ETI-CGC membership, ETC's affiliated regional initiative led by Naoko Ishii from the University of Tokyo. The membership brings together 13 leading Japanese corporates that are working together to develop net-zero scenario models and analyses, specific to the Japanese context. Publication of these insights is expected later this year.
Further highlights included discussions with Mitsubishi Corp and ETC members Orsted on the challenges of developing offshore wind in Japan and the opportunity of developing the sector in Japan to advance energy security, meetings with METI the Ministry of Energy, Technology and Industry, a fantastic engagement with Shinjirō Koizumi, a leading voice on climate and environment within government and to top it off a meeting with the British Ambassador to Japan, Julia Longbottom, where we discussed opportunities for Japanese leadership in its capacity of Chair of the G7.  A tour of Panasonic's technology centre to explore emerging heat pump technology, perspective on the role of fuel cells and innovation in Perovskite solar cells was squeezed in alongside two high-profile interviews with leading Japanese media, Nikkei and NHK.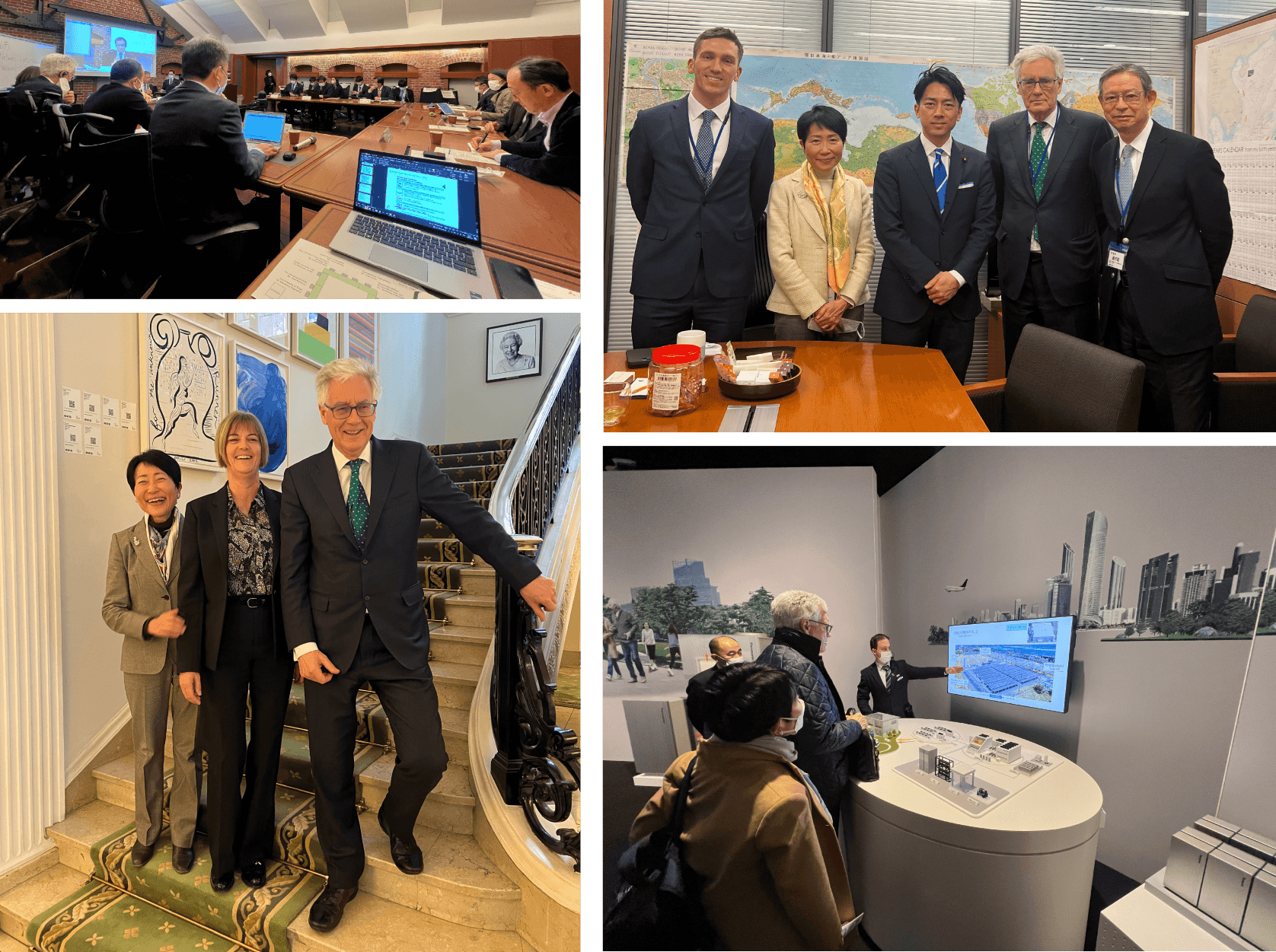 Indonesia
The next stop was Jakarta, where we were able to connect with colleagues from Systemiq and conduct joint meetings for the day. Over breakfast, a discussion with IESR (a leading Indonesian think tank and the first to deliver a 2050 net zero scenario for the country) centred on the solar potential of Indonesia and the practical challenges of implementation, partly due to the existing overcapacity of coal generation and existing energy tariffs.
One of the critical opportunities for Indonesia is the electrification of two-wheelers, not only a transformational opportunity for scaling local manufacturing, supply chains and wider electrification but also to deliver wider social value to citizens through emissions reduction and improved air quality. INDIKA Energy, through their subsidiary Ilectra Motor Group, is working towards this end, and we were able to test ride their latest "Alva One" battery electric vehicle (BEV), an inspiring step on the road to Indonesia's target of 2 million electric two-wheelers on the road by 2025. Other engagements included a round table with the Indonesian Chambers of Commerce (KADIN) Net Zero Hub which is mobilising Indonesian corporates to develop transition strategies and align to Science Based Targets initiative (SBTi) pathways and discussion with PTSMi on the mobilisation of finance through the energy transition mechanism (ETM) and just energy transition partnership (JET-P) mechanism.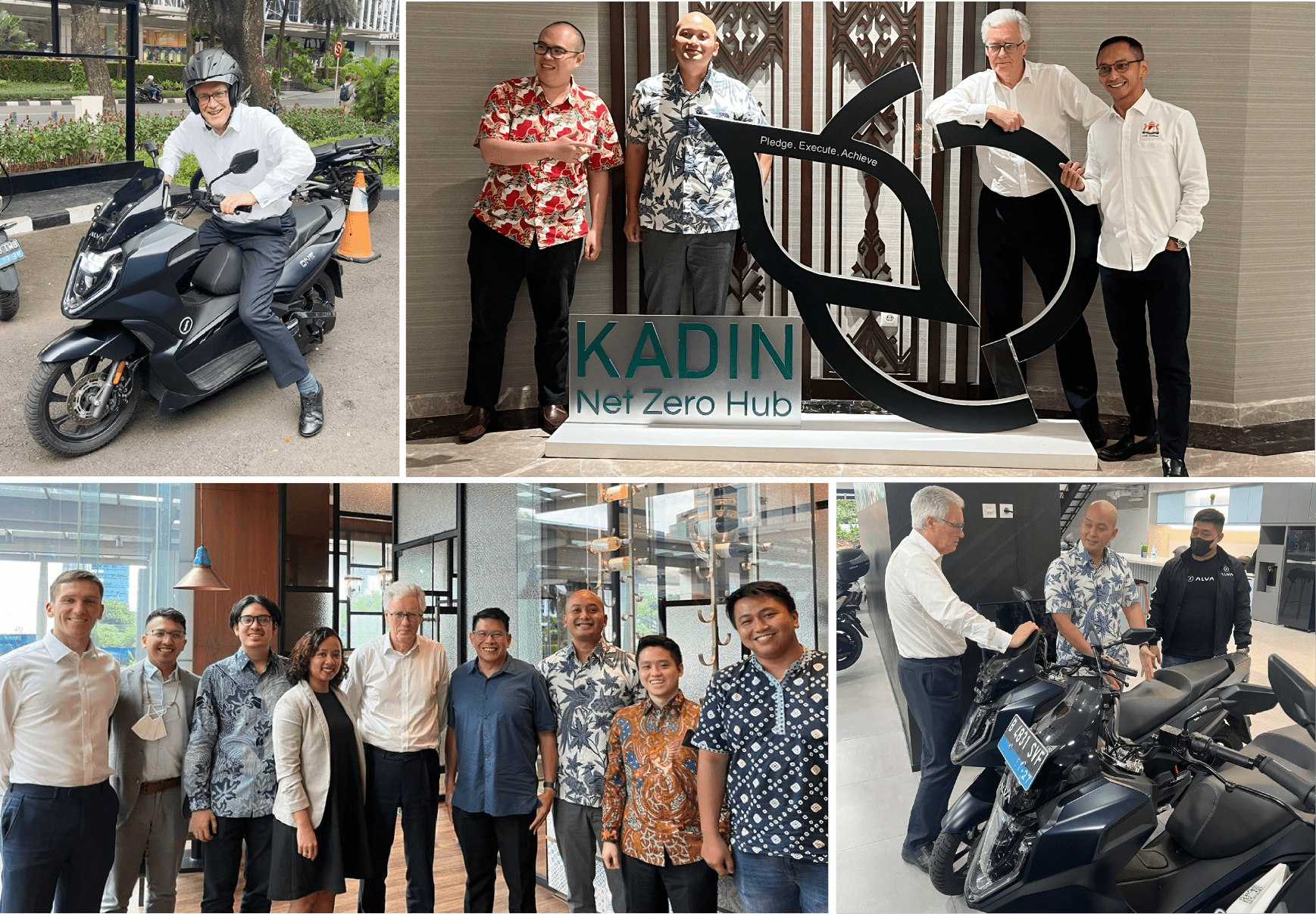 Australia
We were excited to touch down in Sydney for the launch of The Australian Industry Energy Transitions Initiative's "Pathways to industrial decarbonisation" report. The report is the culmination of a 3-year programme launched in 2020 with the ETC and outlines pathways to decarbonise Australian industry across five key supply chains. Adair was alongside the Minister for Climate Change and Energy, the Hon. Chris Bowen MP, Simon McKeon AO, Anna Skarbek, Christopher Lee and Darren Miller at the launch, jointly asserting the 'all-in effort' required to seize the tremendous potential of Australia to become a renewable energy superpower, decarbonise heavy industry and create jobs across the nation in the process. More information on the launch and the report can be found here.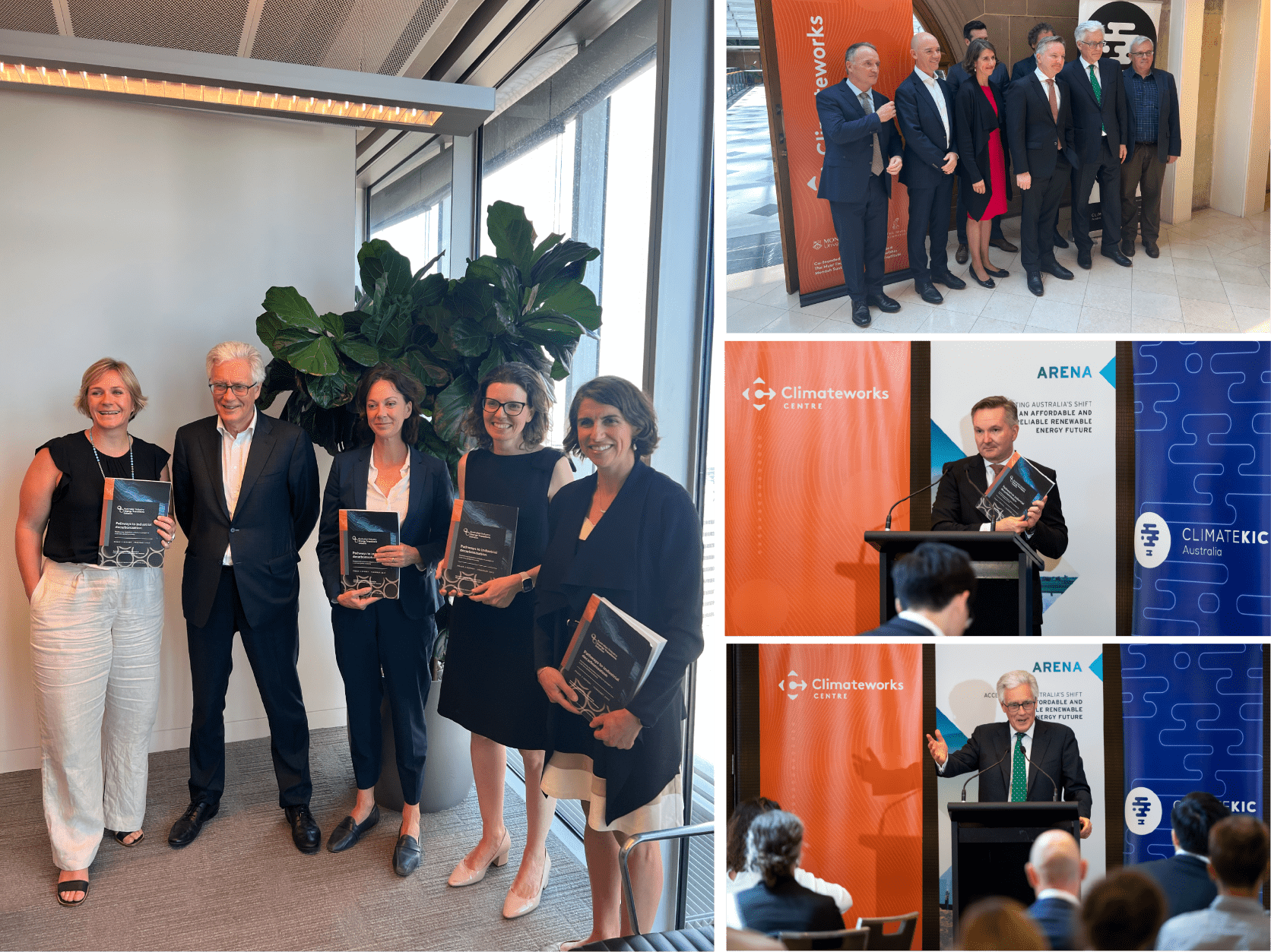 Alongside the launch of the report, together with Anna Skarbek (CEO of Climateworks), we met with a group of climate progressive independents (sometimes known as the 'Teals') to share the international situation and ETC perspective on industrial decarbonisation and energy transition, highlighting the degree to which major change is happening and the stakes at play for Australia. Zali Steggall, Allegra Spender, Kate Chaney, Monique Ryan, and Zoe Daniels were keen to address the issue of LNG, the pace at which a pivot to exporting green H2 might be feasible and how to crack down on methane emissions.
The time in Australia was punctuated by two site visits at Yarwun, just north of Gladstone. First, we were hosted by Orica (the largest ammonia storage and handler on the eastern seaboard) at their Ammonia Nitrate and Sodium Cyanide facility. The team was given a detailed insight into the production of Ammonia Nitrate, used extensively for explosives in the mining industry and the challenges to abate the emissions from the nitric acid plants.
The afternoon was spent with ETC members Rio Tinto at their Yarwun Alumina Refinery. Although gross emissions from refining are currently less than those from the smelting process (emissions primarily stemming from the large power consumption), decarbonisation is less straightforward within the refining processes and low-carbon technology development is crucial. Rio Tinto is currently partnering with ARENA, the Australian Renewable Energy Agency, to study the feasibility of using clean hydrogen to replace natural gas in the calcination process. The visit was a wonderful chance to explore and understand the real-world complexities of transitioning existing assets, seeing first-hand the scale, but also the specific nuances of each site, such as the requirement at Yarwun for high-pressure steam in the digestion process due to the specific bauxite processed. Collaborative research and development are critical to support industry to overcome such challenges, enabling the viability of demonstration projects and the emergence of new technology to support the energy transition.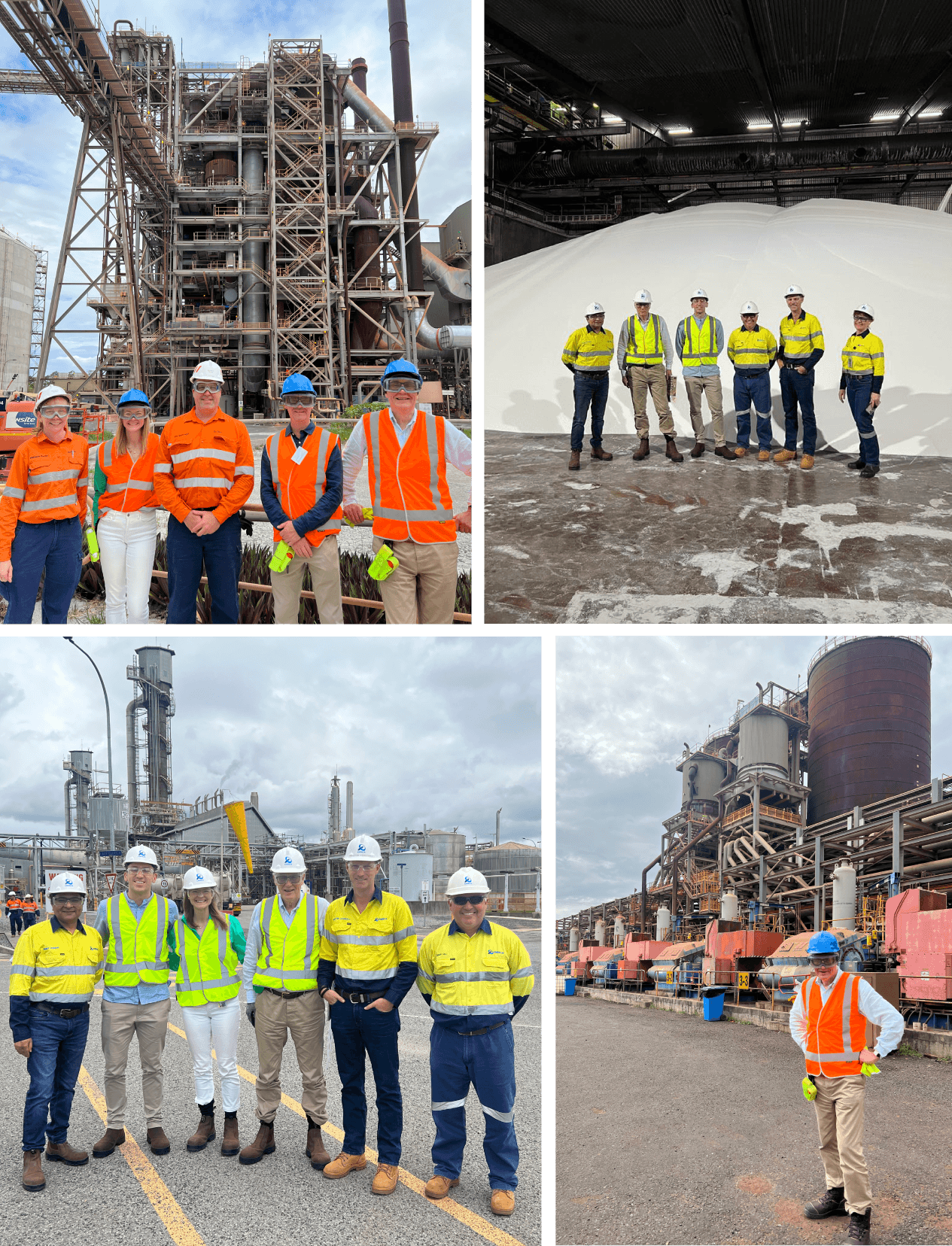 Malaysia
In Kuala Lumpur, the ETC were thrilled to visit Petronas at their iconic head office, the Twin Towers. A morning round table with the CEO Action Network (CAN) provided a rich discussion on the state of ambition in Malaysia which has the official target to become carbon neutral "as early as 2050" alongside the challenges of Malaysia's transition including the implications of the Carbon Border Adjustment Mechanism (CBAM) and the trade-off between biodiversity and utility-scale solar.
Conversations with Mazuin Ismail (ETC Commissioner), A. Rahim Mahmood (ETC Representative) and Charlotte Wolff-Bye (Chief Sustainability Officer) and a lunch meeting with Datuk Tengku Muhammad Taufik (CEO, Petronas) led us to better understand how the globally significant national oil company (NOC) is pivoting its business strategy and scaling clean energy investment through its new special purpose company, Gentari. The issue of how fast NOCs can and must rebalance away from oil and gas is a key issue in our ETC Fossil Fuels in Transition workstream, and we are delighted that Petronas will be active in addressing this complex topic.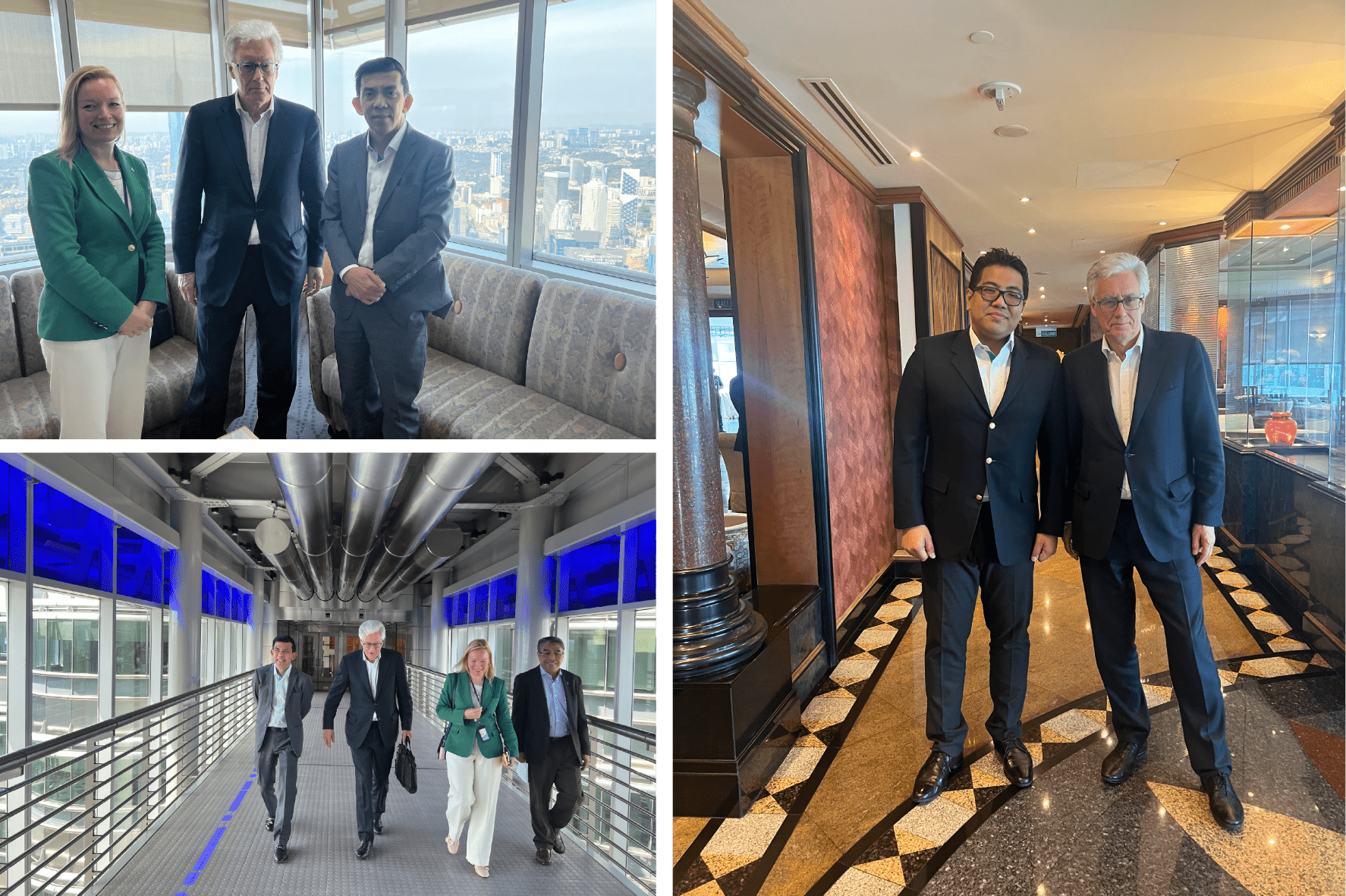 The last engagement of the trip was an excellent afternoon spent with TNB (Malaysia's state-owned electric utility) at their new TNB Headquarters Complex, which opened earlier this year and is rated platinum under the Green Building Index (GBI). Adair and Dato'Indera Ir. Baharin Bin Din (President and CEO, TNB) exchanged on the barriers to scaling clean power in the region. Ultimately it's in conversations such as this that progress is made, understanding the multiple tensions and sharing international experience to foster accelerated action. An excellent afternoon to round out a rich tour.

Summary
The trip was a fantastic opportunity to deepen our understanding of the challenges faced in the Asia-Pacific region, learn more about the business strategy of our members as well as support our regional programmes to drive change in local economies.  The ETC team left the tour with a strong conviction that the transition is accelerating in the region and looking to be increasingly feasible with variable renewable energy (VRE) at the forefront.
There are many significant hurdles remaining in technology development, existing economic policy and crucially, reversing incumbent mindsets. However, this all demonstrates to us the importance of the need to continue championing  ETC's insights and high-ambition vision, challenging limiting beliefs to trigger accelerated action to reach the pace and scale of transformation required.
Exemplified by Ørsted's efforts to scale offshore wind in Japan, the actions of Korean industry leaders, Korea Zinc, to decarbonise its energy supply via its subsidiary Ark Energy which is at the forefront of Australia's green hydrogen industry, and the efforts of Petronas to deliver 30-40 GW of wind and solar in Asia-Pacific by 2030. Engaging with government leaders, energy ministries, ETC members and alongside supporting our regional programmes, the transition requires a multistakeholder approach to share international experience and propagate change.
We would like to express our deep thanks to all of our hosts, ETC Commissioners KD Park, Mazuin Ismail, Naoko Ishii and Anna Skarbek alongside Representatives Jaekil Ryu, Jonathan Grant and Masa Sugiyama, our Systemiq colleagues Widharmika Agung, Nicholas Omar, and Abindra Soemali, support from British embassies in Korea, Japan and Malaysia and the teams who made all the engagements possible and the agenda so rich. Lastly, a big congratulations to the Australian Industry ETI for the very successful launch of the Pathways to Industrial Decarbonisation report.