Adair Turner (ETC, Chair) and Ita Kettleborough (Director) recently visited our Swedish ETC Members, SSAB, Volvo Group and Vattenfall. The visit was an opportunity to see first-hand how cross-sector collaboration can develop net-zero solutions.
The trip started in the Arctic Circle, in Luleå. SSAB Representative Martin Pei, Executive Vice President & CTO, led the tour of the HYBRIT pilot plant, where members SSAB and Vattenfall, along with LKAB, are pioneering fossil-free steel production using green hydrogen. Volvo Group Commissioner Johan Lunden, Senior Vice President CTO Office, and Mikael Nordlander, Vattenfall's ETC Representative and Director of Industry Decarbonisation, also joined the visit. The trip was an opportunity to witness how cross-value chain and cross-industry collaboration can accelerate the development of first-of-kind decarbonisation solutions for hard-to-abate industries, such as steel.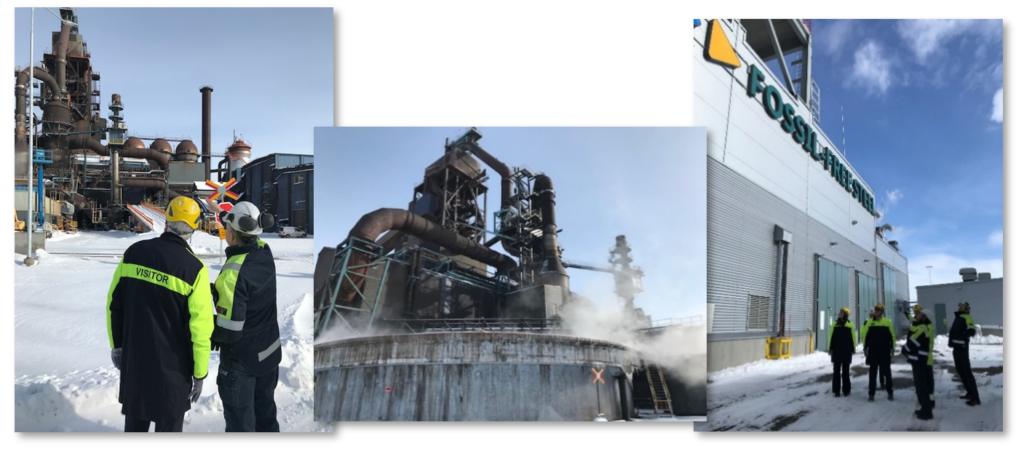 After visiting SSAB's existing blast furnace, the highlight was touring the first-of-its kind HYBRIT plant. This pilot facility demonstrates the process of reducing iron ore using fossil-free hydrogen, instead of coal and coke, and includes the required hydrogen production and storage facilities. By using green hydrogen produced using renewable electricity, the steel plant is able to manufacture steel without using fossil fuels of any kind.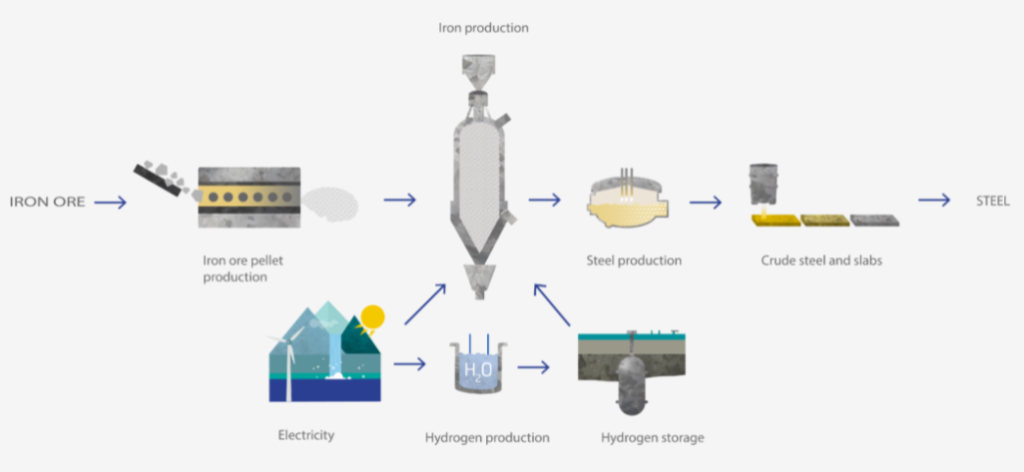 Source: HYBRIT Fossil-Free Steel
The HYBRIT project is also developing a first-of-a kind rock cavern hydrogen storage facility. Large scale hydrogen storage enables the use of cheap wind or solar electricity to produce hydrogen intermittently, by providing a buffer which ensures stable flows of hydrogen for steel production. The research and development taking place at HYBRIT could be relevant to many other applications, where steady flows of hydrogen are required but no naturally occurring scale storage sites (e.g. salt caverns) are available. The visit was an inspiring example of addressing the hydrogen storage challenge head-on, with a successful pilot holding the potential to dramatically extend the applications and locations where cheap, clean hydrogen can be used.
The HYBRIT project is a great example of the power of cross value-chain and cross-sector collaboration to deliver the energy transition rapidly. The cooperation works all along the value chain; LKAB extracts the primary material (iron ore), SSAB uses the iron ore to produce steel, and Vattenfall provides the clean energy required to power the fossil-free process.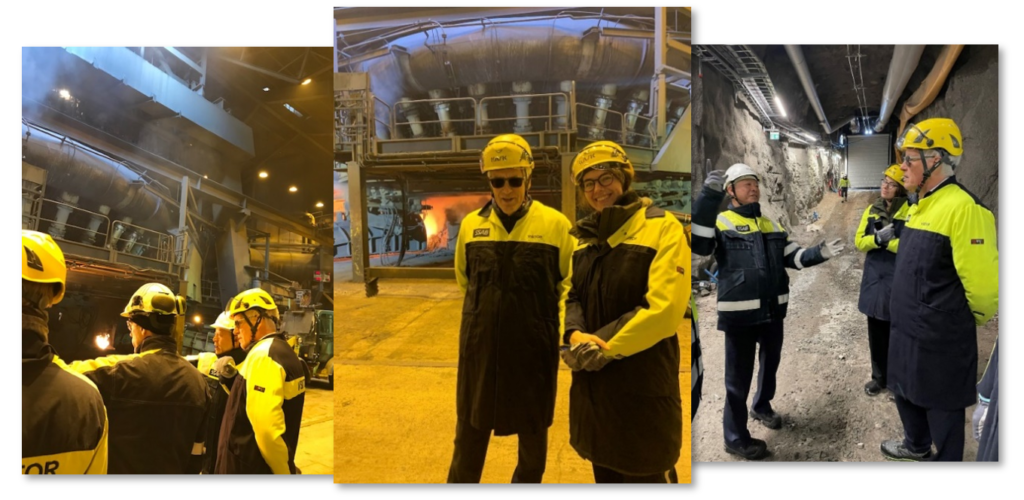 Being on-site, Adair and Ita were able to really understand how this project was achievable thanks to the joint effort of the organisations, combined with policy support to get this novel technology off the ground. Initially supported by the Swedish Energy Agency, in November 2021, HYBRIT was granted support from the EU Innovation Fund, as one out of seven European projects using breakthrough technologies within energy intensive industries. The large scale of the research and development effort required creates a significant challenge for any individual company, but a partnership model enabled a successful business case to be developed – championing a suite of new clean technologies vital to the global energy transition.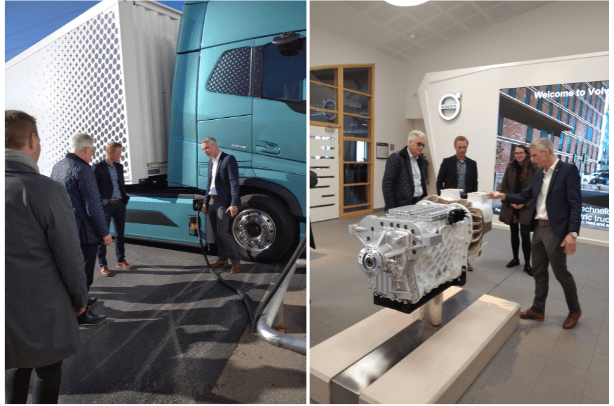 The ETC visit continued at Volvo Group headquarters in Gothenburg. Volvo Group are proactively working with a broad range of companies across its value chain to help it decarbonise. They now have a fleet of battery powered heavy-duty vehicles on the road. As you can see below, our team got the wonderful chance to test drive these pioneering trucks, with a range of up to 300 kms. Furthermore, Volvo Group will be one of the earliest off-takers of the green-steel produced with HYBRIT technology. They are also developing collaborations with a number of 'green' industrial clusters, where Volvo aims to set-up hydrogen refuelling stations that will eventually be used by their long distance trucks.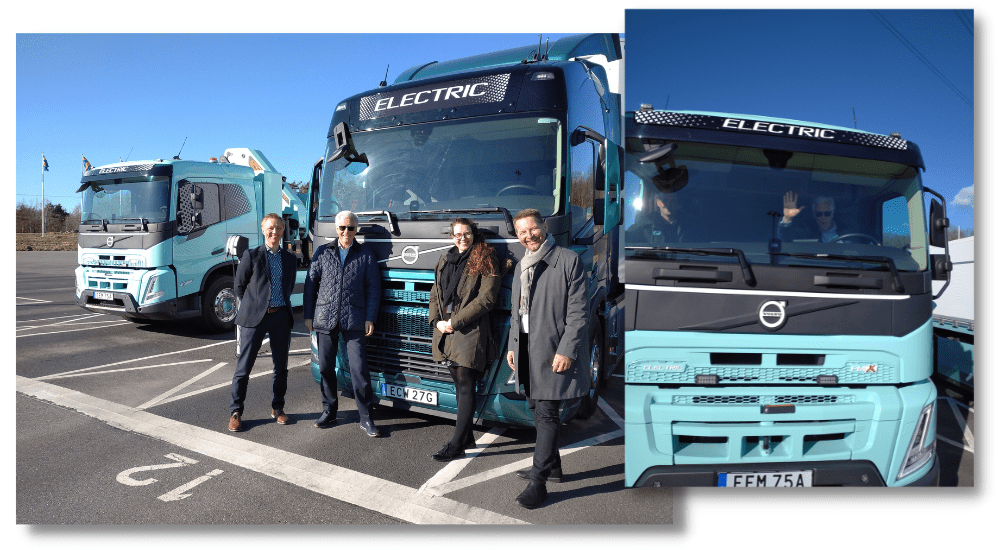 Adair and Ita continued their visit at Vattenfall headquarters in Stockholm. Owned by the Swedish state, Vattenfall AB is aligned with the government's Fossil Free Sweden initiative, working alongside industry and municipalities to support country wide decarbonisation. It takes a sector-by-sector approach to the challenge, finding ways to collaborate with the heavies emitters in all sectors of the economy and collaborating to identify decarbonisation solutions – which require access to clean power which they can often facilitate.
During the visit, our Chair Adair Turner participated in a panel discussion with Vattenfall Commissioner Andreas Regnell, SSAB Representative Martin Pei, Volvo Group Commissioner Johan Lunden as well as Robert Andrén, General Secretary of the Swedish Energy Agency. The session revolved around the energy infrastructure of tomorrow, and necessary system buildouts for the energy transition. Watch the full exchange here.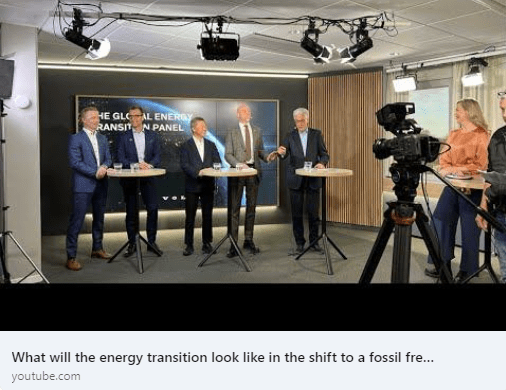 The Sweden trip was a brilliant opportunity to get a real sense of the scale and of the complexity of the energy transition. Member experts highlighted the real-world challenges of the transition, but also demonstrated that real world projects are crucial to prove decarbonisation technologies and solutions work.
The ETC team came away from the visit with a real sense of the exciting progress which is already being achieved. Efforts such as these Swedish projects prove the concepts, and do the heavy research and development to understand what it takes get these technologies off the ground and demonstrate what is possible by working together. Volvo F-series battery-powered trucks are on the road today because Volvo Group, along with others, have pursued their development, carbon-free steel has now been produced because SSAB, Vattenfall and LKAB came together on the HYBRIT project. The speed at which the energy transition needs to happen makes these cross-value chain collaborations critical. For the transition to occur at the scale and pace required, more collaborative, innovative efforts like these must be undertaken.
We would like to extend a massive thank you to our hosts, Commissioners Martin Lindqvist of SSAB, Johan Lunden of Volvo Group , and Andreas Regnell from Vattenfall. A huge thank you also to the ETC member Representatives who led the visits, Martin Pei, Mikael Nordlander, and Niklas Gustafsson, in addition to their teams.