In this ETC chart, we highlight an analysis of estimated deployment timeframes for different energy solutions in Europe, in light of the EU's objective of eliminating reliance on Russian gas by 2030.
EU timescales for eliminating reliance on Russian gas

The EU has set the objective of entirely eliminating reliance on Russian gas by 2030 and has published a plan for achieving this. The crucial question is how to meet these energy security objectives while not delaying and ideally accelerating the energy transition.
A range of potential solutions have been proposed to the current gas crisis, including both low-carbon and high-carbon options, but the key question that sits across all options is what is the relative pace at which alternative technologies can be deployed? The chart below sets out an estimation of required timelines for significant impact by technology, and the potential to reduce existing timelines via strong policy action. This highlights both energy efficiency and renewables as relatively rapid response options to the current crisis, whilst effectively ruling out options such as additional LNG infrastructure as a near-term fix to the crisis, and noting that any contribution nuclear could offer would be a long way down the line.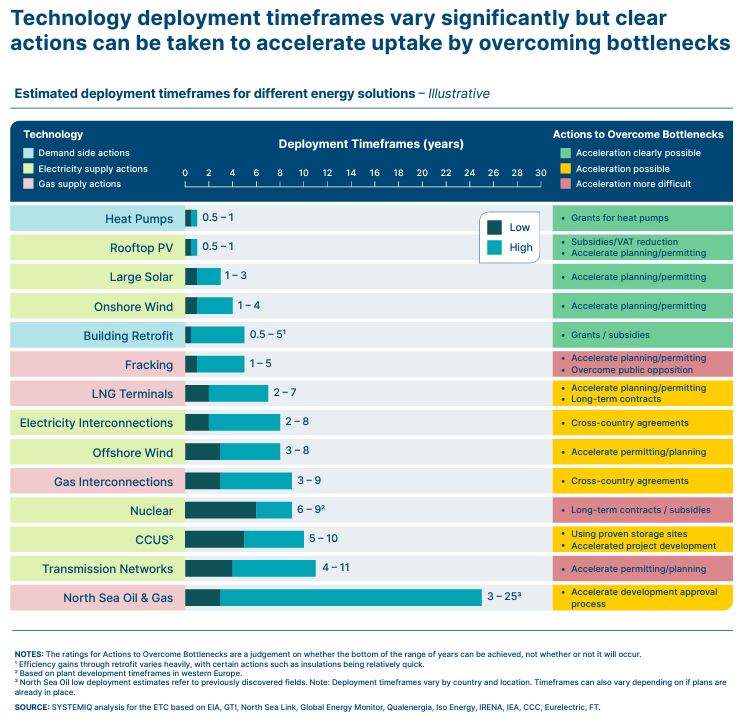 This chart was published in the ETC's Building Energy Security Through Accelerated Energy insights briefing.
If you would like to reproduce this chart, please click here to fill out a form.
Interested in receiving these insights in your inbox? Click here to sign up for our mailing list.