by Leonardo Buizza (November 2023)
As COP28 draws near, increasing attention is being paid to a crucial topic: the future potential and role for carbon capture, utilisation and storage (CCUS), and carbon dioxide removals (CDR). 
This year has seen scandals bloom around carbon offsets, increasing talk of "net-zero barrels" of oil, and the rise of the idea that carbon capture will allow the fossil fuel industry to maintain business-as-usual.1For example, the recent purchase of Carbon Engineering, a leading carbon capture start-up, by Occidental Petroleum, has led their CEO to state that these kinds of technologies will help "preserve [the oil and gas] industry".
Opposing arguments have emerged that the potential of both CCUS and CDR is either incredibly limited, or near limitless. Given the link to fossil fuel use and emissions of carbon dioxide, this leads to a very wide, almost incredible range of scenarios for future demand for fossil fuels – as we've highlighted in the chart below.2This is also the case in IPCC scenarios. Scenarios covering both 1.5C and well below 2C pathways (C1 and C2 pathways) cover a range from 2–44 GtCO2 of carbon capture and storage (including bioenergy with carbon capture and storage, BECCS). IIASA/IPCC (2023), AR6 Scenario Explorer and Database.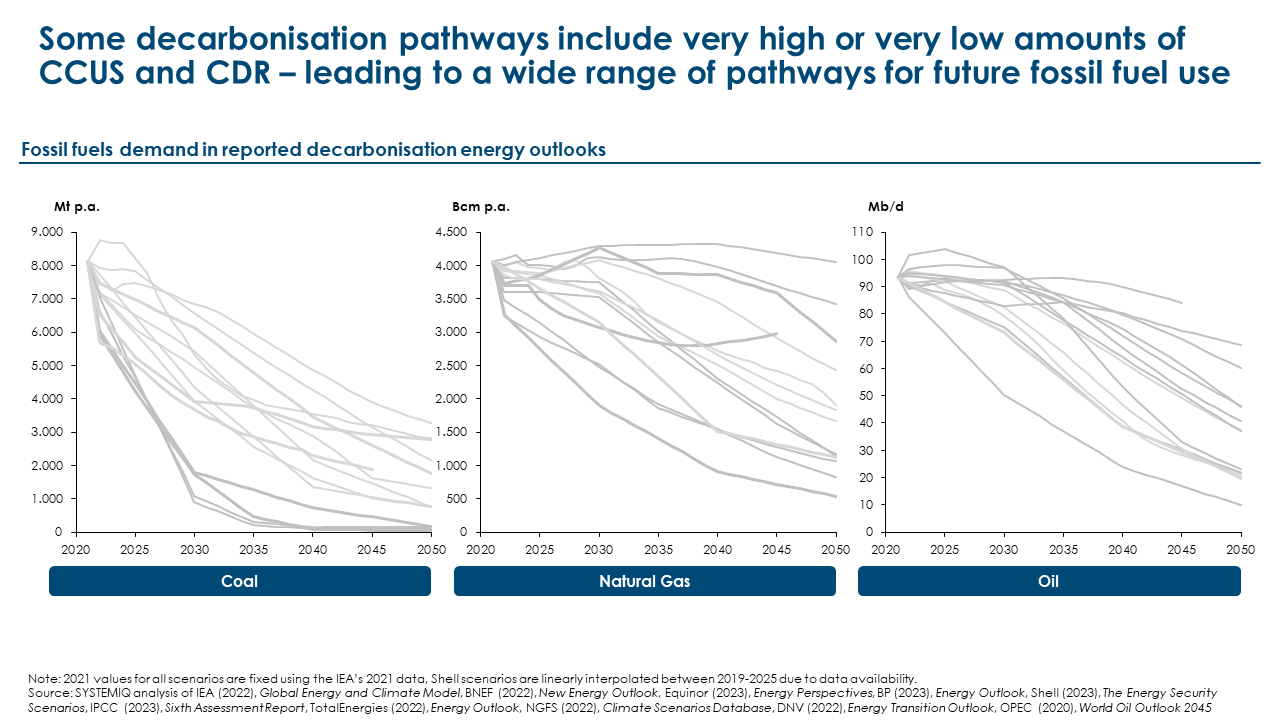 The reality, rather, is one of sensible pragmatism. Both CCUS and CDR will be needed to some fairly significant degree in order to reach net-zero emissions. But their role will be far from limitless, and indeed – as our analysis shows below – it means nothing close to business-as-usual for the current fossil fuel industry. 
The Energy Transitions Commission has carried out extensive analysis on Fossil Fuels in Transition (in a report to be published before COP28) to understand the possible pathways for future emissions, building on our existing work on the role of CCUS and CDR in a net-zero energy system.  
This work has led us to three key findings:
Down Down: The rise of clean energy technologies will lead to falling fossil fuel use
Low-cost clean energy technologies are already available that can now, and will in future, displace the vast majority of fossil fuel demand across a wide range of sectors, from steel production to generation of electricity or even long-distance shipping.  
In our forthcoming report we highlight how demand for coal, gas and oil can be 80-85%, 55-70%, and 75-95%, respectively, lower than current levels by 2050. 
CCUS won't be everything, everywhere, all at once
The consequence of collapsing fossil fuel demand is that the future role for CCUS, whilst vital to achieving deep decarbonisation, is likely to be limited – a point highlighted in our original report as well. 
Applying CCUS across the range of sectors that currently use fossil fuels would be, in many cases, highly impractical. Most applications of CCUS involve chemically capturing CO2, transporting it via pipes, trucks or ships, and then storing it permanently and safely, typically far underground. In sectors such as road transport, shipping, aviation or gas heating, therefore, adding carbon capture would be logistically tricky and a very difficult and expensive way of reducing emissions.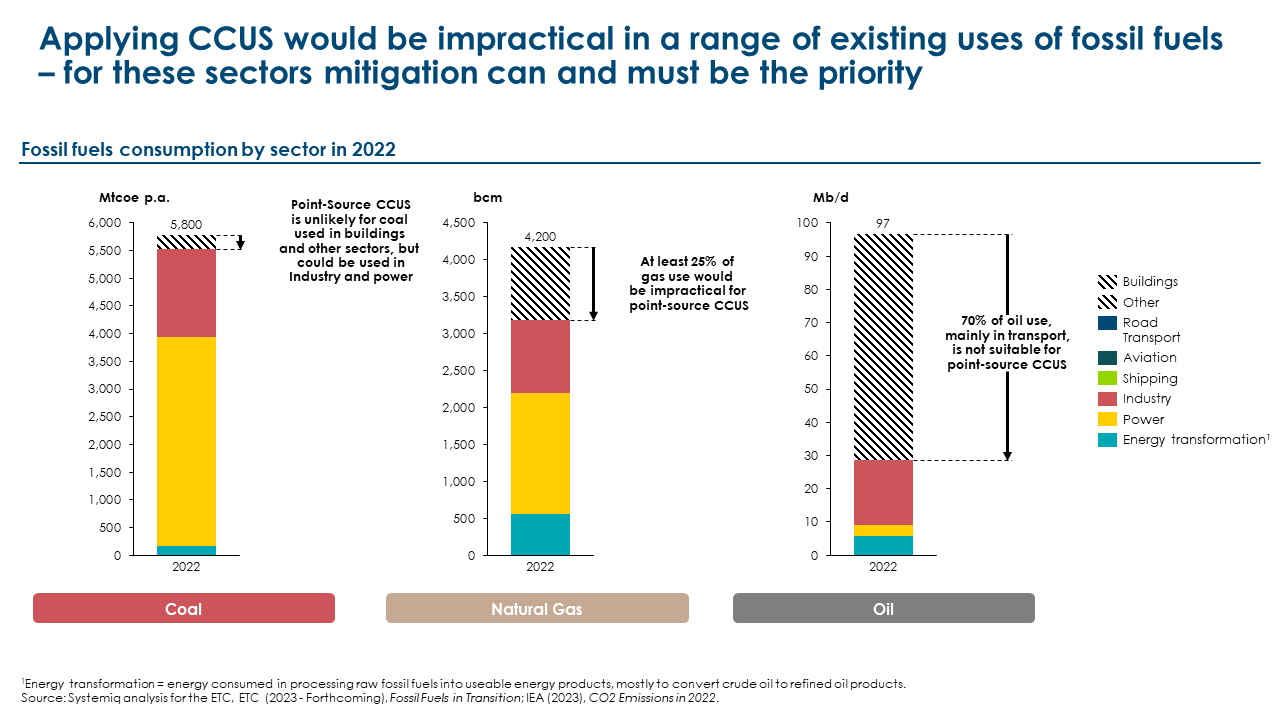 Carbon capture is only likely to play a major role where: 
There are few alternatives to decarbonise a sector.

 

The likely costs are similar or lower than competing technologies, with CCUS not seeing major cost declines and needing to compete with rapidly-falling costs for solar, batteries and more. 

 
There is good access to enabling infrastructure (notably, transportation and storage for both CO

2

and, in some cases, low-carbon hydrogen).

 
With this in mind, carbon capture is far more likely to play a significant role in, for example, direct air carbon capture (DACC), combined with storage (for removals) or utilisation (for synthetic fuel production), or to abate process emissions from cement production. Applying CCUS to vehicles in transport or to domestic heating systems, meanwhile, is unlikely to ever happen.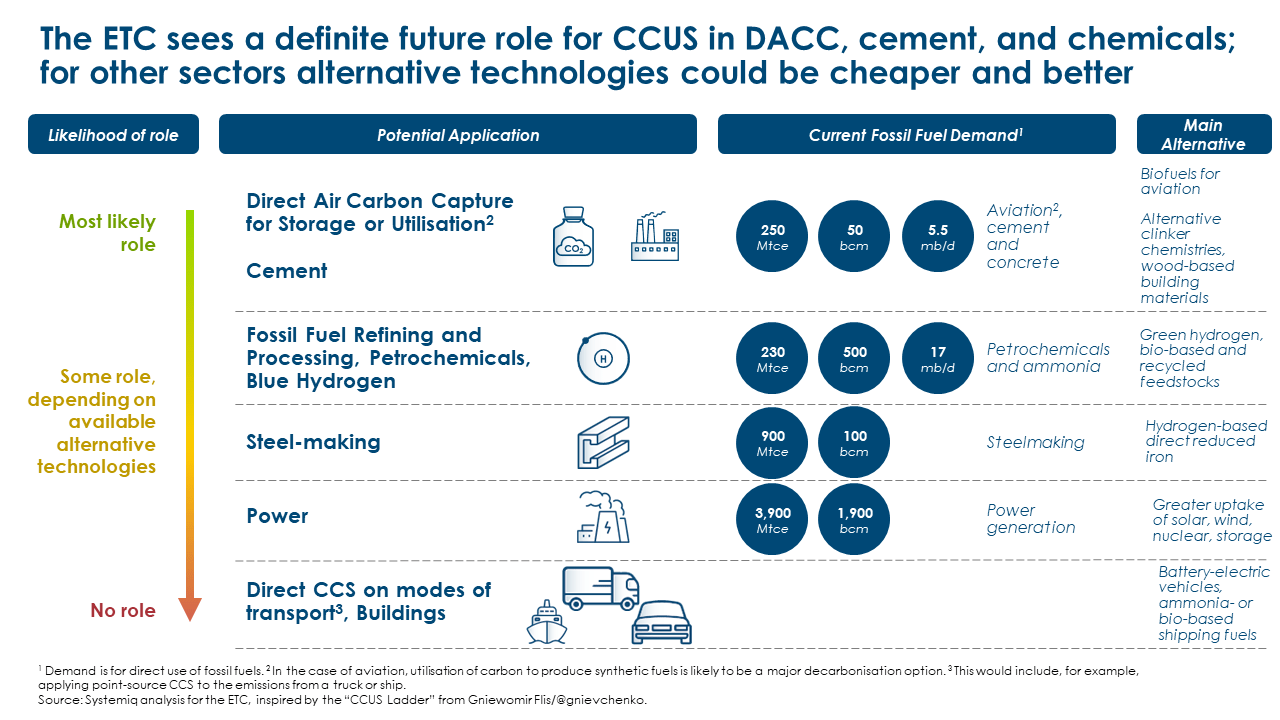 Our upcoming report shows that point-source CCUS applied to ongoing coal, gas and oil use is likely to be at most 4-5 GtCO2 by 2050 (and could be lower – especially if wind, solar and batteries deploy even faster than expected in the power sector).  
At most, therefore, CCUS will apply to just 5-15% of today's fossil fuel demand and cannot be used to justify business-as-usual fossil fuel production.  

Removals are needed for stayin' (1.5°C) alive
There is a need for a very ambitious scale-up of carbon removals in order to keep 1.5°C alive. Between now and 2050 we could need cumulative carbon dioxide removals of around 150 Gt to limit global warming to 1.5°C.  
Crucially, these removals are required in addition to, not instead of, the reductions in fossil fuel use outlined above.  
As highlighted in our 2022 report, these removals can be delivered through nature-based solutions (such as tree-planting), "hybrid" removals (such as biochar), and engineered removals which rely on technology to achieve carbon capture (via e.g., DACCS3DACCS = Direct Air Carbon Capture and Storage.).  
Deploying this level of removals will be challenging: there are limits to the pace they can be scaled up; there has been slow progress to date; and removals need to be deployed in addition to, not instead of, reducing fossil demand. Removals are likely to be able to deliver at most 10 GtCO2 of removals each year by 2050: this is just one-quarter of current emissions from the fossil fuel energy system.4Emissions from the fossil fuel based energy system were around 37 GtCO2 in 2022. IEA (2023), World energy outlook. 
Once again, this implies that fossil fuel use cannot continue at business-as-usual levels simply by neutralising emissions using removals, and instead needs to fall quickly to stay on track for 1.5°C.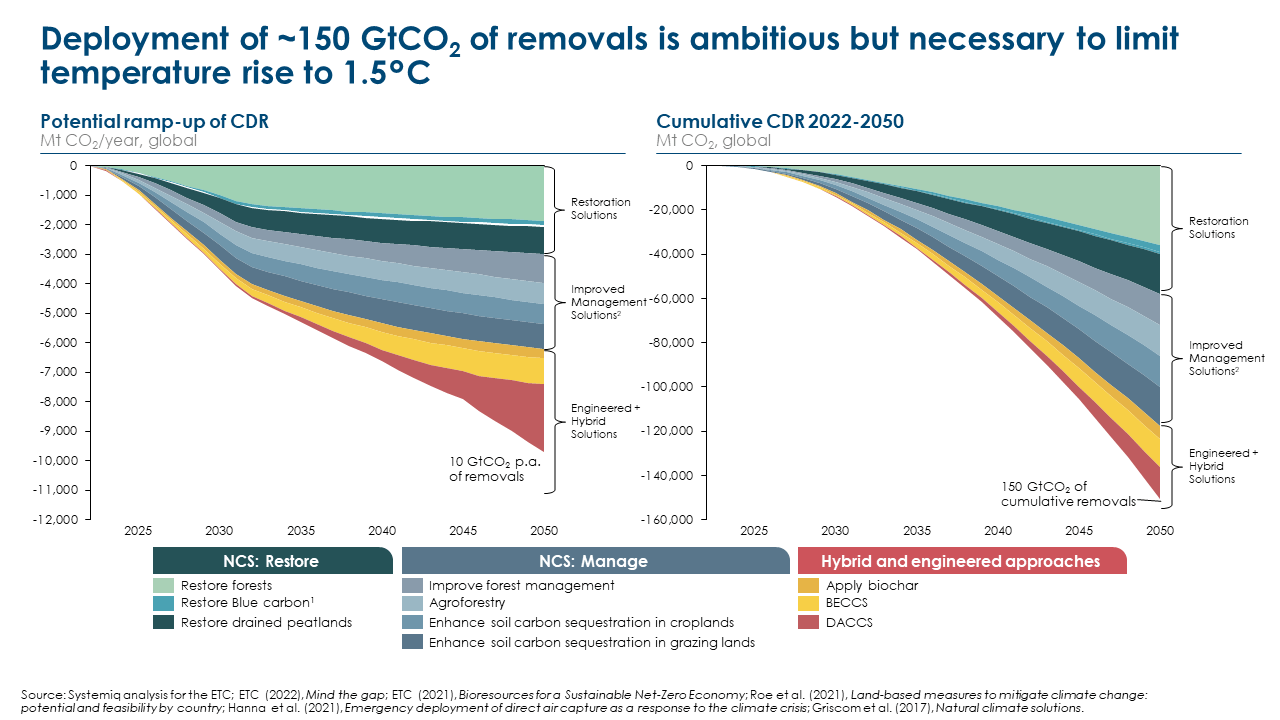 As we look ahead to COP28, therefore, we should not allow strong calls to deploy both CCUS and CDR to feed into the myth of "business as usual" for the fossil fuel industry. Both will play an important role. Both need policy and investment support to scale. But fossil fuel demand must come down, sharply, as well.